Exceptional Szczecin citizens and their tenements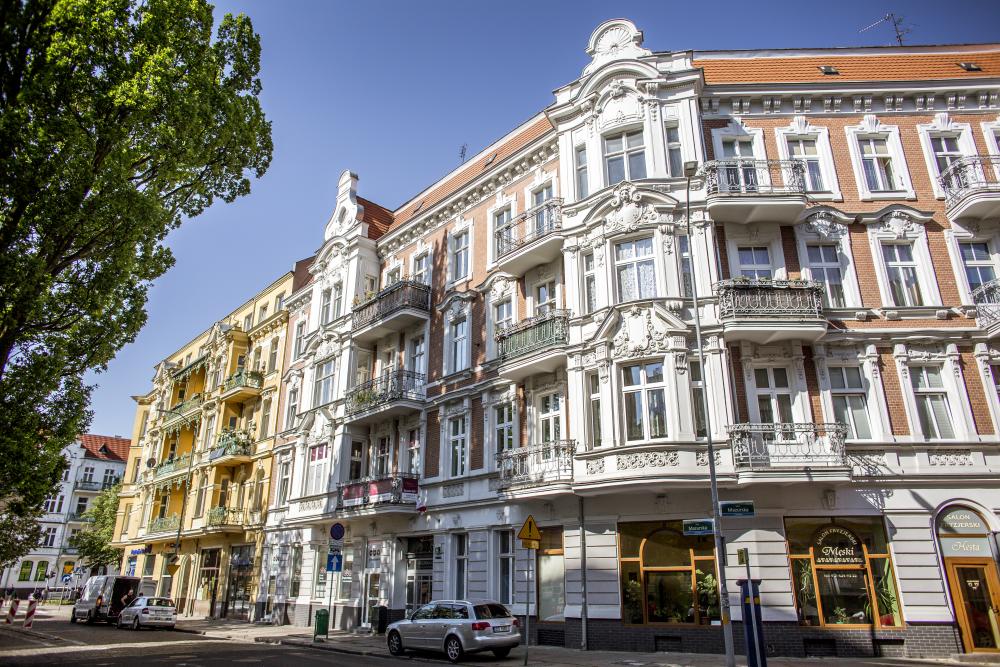 Kamienica Szczecina
This touristic route leads among the thirteen tenements located in the down town area and their extraordinary residents of pre- and postwar period.
List of places on this extraordinary trail:
Julo Levin's tenement house
Built: 1888–1889. Designed by: Paul Seyring.

Julo Levin (1901 Szczecin – 1943 Auschwitz) – expressionist painter of Jewish origin, graduate from the Academy of Art in Munich and Düsseldorf. He applied various painting techniques (oil paint, watercolour, gouache) and he was also a printmaker. Among others he painted landscapes of his hometown Szczecin. Levin's most famous work was Hiob, created under the influence of his prison experiences and the news about putting his friend to torture. In 1933 he was qualified as "degenerated" artist and was banned from artistic work. In 1943 he was transported to Auschwitz concentration camp.
 

Heinrich George's tenement house
Built: 1886 r. Architect unknown.

Heinrich George (1893 Szczecin – 1946 Oranienburg), born Georg August Friedrich Hermann Schulz – legendary actor, dramatic actor.

He made his debut in 1911 in Bürgerliche Ressource theatre in Szczecin. He took up his first important role the next year in Kołobrzeg in the operetta by Jean Gilbert Chaste Susanne. He performed in many appreciated plays by Shakespeare, Schiller and Goethe. In 1921 he started his film career, which made him extremely popular over all Germany.

Among others he acted in a great classic of film history, silent film Metropolis (directed by Fritz Lang, 1927), fragments of which have been used in the clips of world music giants: Queen and Madonna, and the first screen adaptation of the novel by Alfred Döblin Berlin Alexanderplatz (directed by Phil Jutzi, 1931). In Hollywood he acted in Men Behind Bars together with other Szczecin citizens: Dita Parlo and Heinrich von Twardowski.

After Hitler's coming to power he was not permitted to continue his work, later he was committed to film propaganda. Since 1938, when he became a director of Berlin Schiller-Theater, he was helping actors of Jewish origin by engaging them on his stage. He acted in 81 films, the last of which was Kolberg (directed by Veit Harlan, Wolfgang Liebeneiner, 1945) – propaganda work with modern realization and the budget estimated at 10 million marks. In 1945 he was arrested by Soviets and died of inanition in Sachsenhausen camp.

Leon Jessel's tenement house
Built: 1885–1886. Architect: Wilhelm Trost.

Leon Jessel (1871 Szczecin – 1942 Berlin) – composer of Jewish origin, conductor, author of operettas, piano music, songs, waltzes, mazurkas, marches, choirs and other works. His works were very popular and played all over Europe.

He has composed The Parade of the Tin Soldiers, the world's most popular joyful march, used among others in a cartoon Betty Boop Parade of Wooden Soldiers (1933) and since 1933 to this day in a famous choreography of New York dance group Radio City Rockettes. Several times filmed Black Forest Girl operetta became a real breakthrough. Aria "Malwine, ach Malwine, du bist wie eine Biene..." has been popularized by Stanisław Grzesiuk and later Szwagierkolaska music group in Rum Helka – "Rum Helka, Rum Helka, you're as fat as the beam...".

In 1937 his works were banned and in December 1941 Jessel was arrested, accused of instigation against the Reich and tortured by Gestapo in Berlin. He died of the sustained injuries with his last words being: "Gestapo, Gestapo, Gestapo…".

Antoni Kaczorowski's tenement house
Built: 1909–1910. Designed by Paul Fildebrandt and Friedrich Liebergesell.

Antoni Kaczorowski (1893 Lwów – 1982 Szczecin) – actor, singer, director, head of theatre.

Unmatched in solo shows and on stages. He also organized own road show review and operetta groups.

As a soldier of Anders Army he went through all the battle route – Iran, Syria, Palestine, Egypt and to Italy, taking part in the battle of Monte Cassino.

In 1958 he settled in Szczecin. He performed on the stage of the then Operetta (later the National Musical Theatre), he made dozens of remarkable creations. He cooperated with Polish Radio presenting skits and popular songs of the inter-war period. "He used to ham it up as he could, on stage and in life". 

Janina Szczerska's tenement house
Built: 1900 r. Architect unknown.

Janina Szczerska (1897 Stryj – 1981 Szczecin) – teacher, the first head of High School No. 1 which she managed for almost 13 years (with a break between 1951–1959).

During the war she was arrested twice, sentenced to death for her activity in the Home Army (AK), subjected to criminal medical experiments in the concentration camp in Ravensbrück – miraculously she avoided death.

Szczecin pioneer. She is remembered as a pre-war teacher, she opposed coeducation – in 1946 the high school she managed became a school for girls for several years. According to Szczerska "A teacher and an educator at Szczecin Pomerania should aim at the education of a new person – Citizen of Pomerania". She was respected and remembered with liking by some and condemned for excessive flexibility to the authorities by the others. The furniture from her apartment at al. Piastów is displayed in the Szczecin History Museum in a room dedicated to Janina Szczerska. In 1998 a square located near the high school was named after her.

Janina Smoleńska's tenement house
Built: 1904–1906. Designed by Friedrich Liebergesell.

Janina Smoleńska (1926 Tarkowszczyzna – 2010 Szczecin) – soldier of the Home Army (AK), a medic of partisan units of the Vilnius area.

She served under the nom de guerre "Jachna" in legendary units of Polish Underground State commanded by Antoni Burzyński, nom de guerre "Kmicic", Zygmunt Szendzielarz, nom de guerre "Łupaszka" and Longin Wojciechowski, nom de guerre "Ronin".

After the war, in June 1946 she cooperated with anti-communist conspiracy and a squadron of Leon Smoleński, nom de guerre "Zeus", that operated in Warmia and later in Bory Tucholskie. She was arrested in January 1947 and after two months she was sentenced before the Military District Court in Bydgoszcz to death twice and her civil and honor rights were revoked for ever. Due to an amnesty, the sentence was changed to 15 years imprisonment, later decreased to 10 years and she was released a few months before the end of her sentence.

From 1957 Janina Smoleńska worked as a Polish teacher in elementary schools, high schools and universities in Szczecin. In 1996 she became a godmother of the Józef Haller 12th Mechanized Brigade. 

Wilhelm Meyer-Schwartau's tenement house
Built: 1889–1890. Designed by Wilhelm Trost.

Wilhelm Meyer-Schwartau (1854 Schwartau – 1935 Szczecin) , born Wilhelm Friedrich Adolf Meyer – architect, urban planner. As a city construction counselor in Szczecin (1891–1921) he had changed the shape of the city.

Among others, he designed Haken Terrace with City Museum (at present Wały Chrobrego and National Museum, spatial arrangement and constructions of Central Cemetery, administrative building of the town hall (President's office of the Pomeranian Medical University), building of City Gimnasium (High School No. 1) and many other representative buildings in the city. He was inspired by historical styles and the latest engineering achievements. Keen entomologist, founder of the first in Szczecin association for cycle lanes.

Helena Majdaniec's tenement house
Built: 1896–1897. Designed by Eduard Carl.

Helena Majdaniec (1941 Mylsk – 2002 Szczecin) – queen of twist, the best singer in the history of Szczecin.

She made her debut in "Brownie" Student Theatre in 1958. Four years later, as one of two girls from Szczecin – next to Grażyna Rudecka – she was qualified to Golden Ten of the 1st Festival of Young Talents in Szczecin. She performed, among others, the song Dancing Eurydice awarded in the song competition, and later popularized by Anna German. She cooperated with Czerwono-Czarni and Niebiesko-Czarni groups.

All the Poland danced to her hits, such as Lovers are among us or Tomorrow is a good day. In 1968 she moved to Paris where she was a star of Russian cabarets. From the early 1990s she would come back to the beloved Szczecin more frequently.

Summer Theatre has been named after her.

Emil Stoewer's tenement house
Built about 1891 r. Architect unknown.

Emil Stoewer lived on the ground floor in the years 1907–1917.

Emil Stoewer (1873 Szczecin – 1942 Berlin) – motorization pioneer, he and his brother run Stoewer-Werke AG factory. In 1897 he built his first vehicle – three-wheeled bicycle with an internalcombustion engine. The factory manufactured motor cars (including convertibles, limousines and sports cars), vans, lorries, buses, including double-deckers – omnibuses for London city transport.

Majority of them were exported. In 1930 Stoewer produced V5 model, recognized as the first serial German vehicle with the front-wheel drive. The company had interesting marketing ideas: race to Paris with a car of their production, participation in shows, test drives. Szczecin was called Stoewerstadt. Emil Stoewer left the company in 1932. Three years later the factory was engaged into the centrally managed army production.

Heliodor Sztark's tenement house
Built: 1893–1895. Designed by Paul Seyring.

Heliodor Sztark (1886 Konin – 1969 Weslaco) – construction engineer, diplomat, consul of interwar Poland in Cologne, Leningrad, Szczecin (1931–1938), Pittsburgh.

He spoke German, Russian, French and English. He was organizationally supporting the local Polish community, took a good care of Polish season workers and the Jews. During World War II he made over a hundred public lectures on the radio, at universities, at American youth meetings and among the Polish community, agitating for the Polish matters. After losing his post in Pittsburgh he settled in Weslaco in Texas.
He grew citrus plants, led Russian course at Pan American College in Edinburgh and at the air base in Harlingen. He and Michał Wiłkomirski were furthering the music of Chopin, Karłowicz and Szymanowski in the United States. He was buried in a coffin enveloped with a white and red flag at the cemetery in Rio Grande valley.

Kurt Tucholski's tenement house
Built: 1894–1895. Architect unknown.

Kurt Tucholsky (1890 Berlin – 1935 Gothenburg) – writer, theatre and social critic, master of political satire.

Radical pacifist and democrat, adversary of the national socialism. He and Carl von Ossietzky,recipient of the Nobel Prize, were the authors of "Die Weltbühne" magazine. He was the author of novels Rheinsberg, Castle Gripsholm. In 1933 his books were banned in Germany and were burnt in public. In 1929 he settled permanently in Sweden, where after six years he died after overdosing tranquilizers. al. Papieża Jana Pawła II 44 (Kaiser-Wilhelm-Straße 44).

Stanisława Engelówna's tenement house
Built: 1899–1900. Designed by Rudolf Rieck.

Stanislawa Engelówna (1908 Warszawa – 1958 Szczecin), born Angel (after starting her career she translated her last name) – stage actress, Polish film star of the late 1930s, unusual person of Szczecin cultural life of 1950s.

She made her debut in 1935 with a part of Róża in Dożywocie by Aleksander Fredro in Teatr Narodowy (the National Theatre) in Warsaw. Ludwik Solski, director, was the first one to recognize her talent. She acted in Fryderyk Wielki, Sk¹piec, Wesele, Warszawianka. Film production companies offered her parts of beautiful, decent and honest women on the horns of a dilemma and with tragic features. She became famous after acting in Wrzos, Serce matki, O czym siê nie mówi. Her name was magnetic to the cinema audience. She managed to act in six productions before her promising career was interrupted by the war. In 1949 she came to Szczecin for the invitation of National Drama Theatres for a guest performance in Blithe Spirit by Noel Coward. She accepted the proposal of a full-time employment. In those days in Szczecin you have not gone to the theatre, but rather "to see Engelówna".

Erwin Ackerknecht's tenement house
Built: 1895–1896. Designed by: Eugen Wechselmann, Wilhelm O. Zimmermann.

Erwin Ackerknecht (1880 Baiersbronn – 1960 Ludwigsburg) – professor, philosopher, educator, writer and librarian, longtime director of founded in 1905 City Library at Grüne Schanze street (ul. Dworcowa) in Szczecin.

He took care of the development of Community Libraries on the territory of Szczecin and all the Pomerania province.

He realized many innovative projects, such as a library for the blind, music library or the first in Pomerania road library with printed catalogue of all the collection. He was gathering special book collections for students, prisoners, patients of hospitals. Vending machines selling newspapers and books appeared in the streets.

He founded Community University, a modern school for librarians, co organized not operating these days cinema Urania, organized meetings with poets and theatre performances, wrote books and articles to librarian magazine he edited. In 1934 Nazi regime interrupted his activity. He focused mainly on increasing the collection of the founded by him Pomeranian Bibliographic Archive. He left Szczecin with his wife in March 1945.
Fot.: Szymon Maksymiuk