Pomeranian Dukes' Castle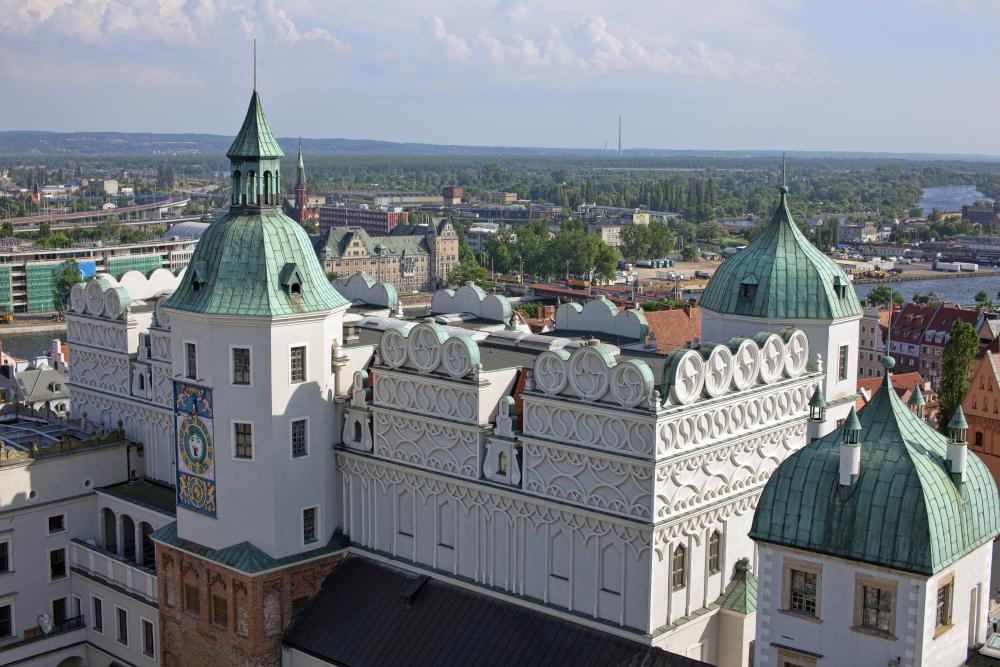 Zamek Książąt Pomorskich
Anyone entering Szczecin by bridges over the Oder River can see the towering red-brick gothic Cathedral and an elegant, pale silhouette of a Renaissance castle with green towers, which used to be the seat of the dukes of the Griffins dynasty who ruled the Duchy of Pomerania.
The Pomeranian Dukes' Castle has five wings and two courtyards. Acting as a cultural institution it organizes an array of cultural events: concerts, theatre performances, exhibitions, conferences and  meetings to popularize science, as well as to spread knowledge about the history of West Pomerania.
The largest wing houses an Opera. In the wing that housed a mint in the olden days one can find today Cultural and Tourist Information Centre.
There is a panoramic terrace on the rooftop of the northern wing from where splendid views can be appreciated. The wing's basement houses a Vault with sarcophaguses of six princes.
The Duke Boguslaw X hall, which used to be a princely chapel, is now a concert hall with a polychromatic ceiling decorated in Renaissance style. A 17th century astronomical clock is the Castle's special tourist attraction. Also a room dedicated to Eilhard Lubinus and the Witches' Cell are definitely worth a visit.
STC discount
reduced ticket