Harbour Gate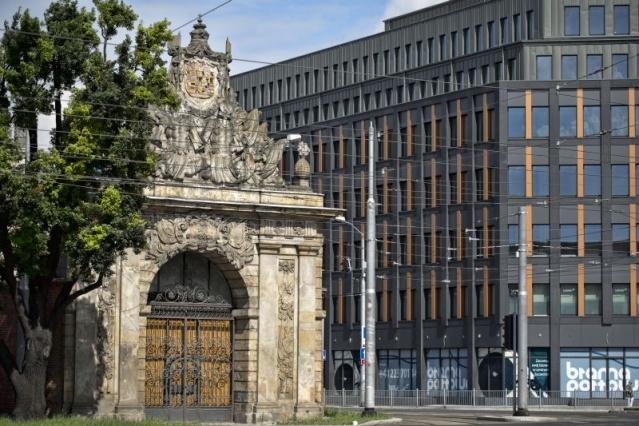 Brama Portowa
The most impressive baroque fortress gate in West Pomerania and at the same time one of the most interesting buildings of this type in Europe.
The gate, originally called Brandenburg Gate and later Berlin Gate, was erected in 1724 after the order of Prussian King Frederick William I.
It is the work of an eminent architect Gerhard Cornelius von Wallrave and a masonry master Hans Jürgen Reinecke from Magdeburg. The gate still has its rich sculptural decorations in the late-Baroque style. The walls and vaults are made of bricks fired by Liege masters, and the facades and gables along with rich sculptural decorations were made of sandstone imported from Pirna in Saxony.
The gate was built on the plan of an elongated rectangle with a vaulted passage. The building has two baroque facades: external and, more impressive, internal (from the city side).
On the west facade you can see an oval medallion with a monogram of the Prussian King Frederick William I, and on the sides there are winged Phemes, blowing their trumpets. The Latin inscription, justifying the rights of Prussia to Szczecin, mentions that the Prussian king acquired the Duchy of Szczecin by virtue of legal arrangements and for the right price.
In the upper area, above the entablature, there is the figure of the god of the Oder River, Viadrus, looking at the panorama of Szczecin pictures on a relief.
On the eastern facade there is a cartouche with the monogram of King Frederick William I with an eagle holding a sword and sceptre in its claws. The finial of the building is the Prussian coat of arms with a royal crown and sculpted trophies.
In 1902-1903, a fountain designed by Reinhold Felderhoff was erected on the eastern side, with the figure of Amphitrite, the wife of Poseidon. Her nude figure offended Puritan residents of Szczecin, which led to the fountain being dismantled in 1932.
In 1942, due to a threat of bombing, both gate tops  were dismantled and hidden in Las Arkoński. In 1957, the elements returned to their place.
The Royal Gate and the Port Gate are the two buildings remaining of the 18th century fortifications of Szczecin.
Currently, the building is the seat of the Szczecin Chamber Theatre (Teatr Kameralny) of the Society of Friends of Art. As part of the adaptation to the new function, a stage and wardrobes were built. The audience of the new theatre has about 80 seats.