Red City Hall (New City Hall)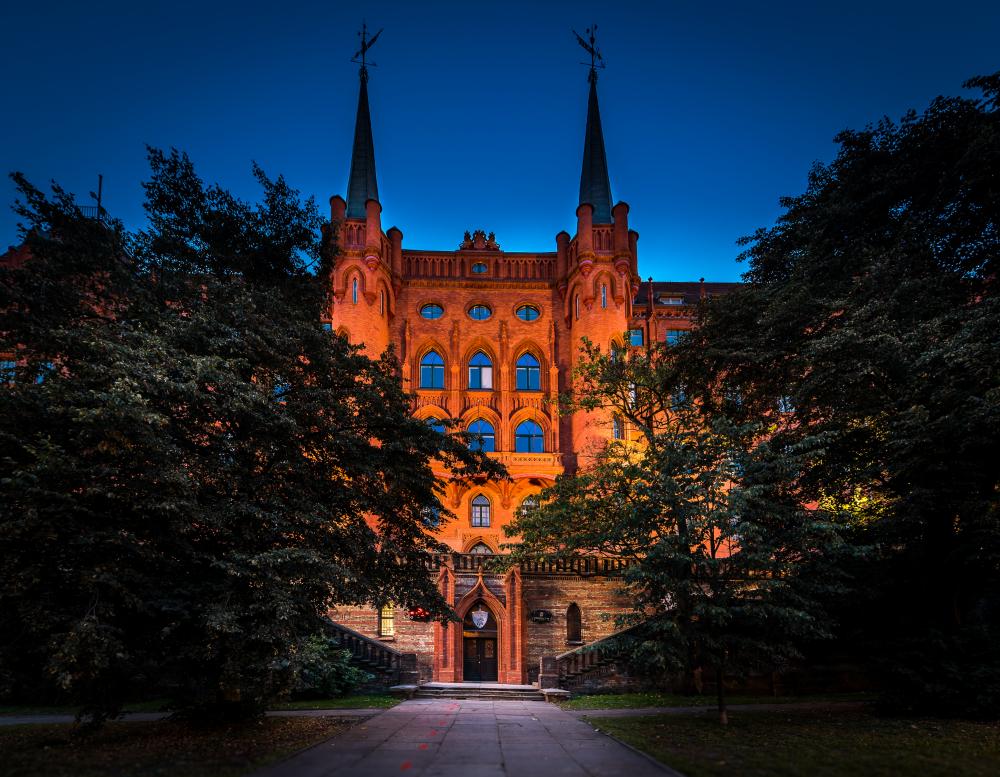 Czerwony Ratusz
The so-called Red City Hall used to be a seat of the municipality and now it houses the Maritime Office.
It is a spectacular example of a style highly popular in the 19th century Germany called Gothic Revival – it is full of pointed arches, balconies, bay windows, gracious slender towers and ceramic coats of arms. The entrance is decorated by four allegories: craftsmanship, fishing, trade and science.
The construction of the neo-Gothic New City Hall, designed by Karl Kruhl, commenced on 2 September 1875. The building was consecrated on 10 January 1879 and the municipal authorities started moving from the Old City Hall. Two outstanding lord mayors held their office in this hall: Herman Haken (for 29 years) and his successor Friedrich Ackermann (24 years). The City Hall was destroyed by arson on 6 December 1945. After its reconstruction it has been a seat of maritime institutions.
The construction of the neo-Gothic New City Hall started on 2 September  1875, in view of the growing needs of the city and cramped conditions in the Old City Hall in the area of the so-called New Town, erected outside the fortifications since 1846. Karl Kruhl's ambitious design made the building bigger than the city halls in Gdańsk, Stralsund and Greifswald combined. The building was consecrated and put into use on 10 January 1879. The city authorities then consisted of a lord mayor, mayor and 19 council members, only 6 of whom received a fixed salary from the city. The municipal board consisted of 64 members, elected every 6 years from among the city residents. The councillors formed 14 bodies and deputations.
The building was only slightly damaged by air raids during World War II but it was completely destroyed in an intentional fire on 6 December 1945. The burned walls stood until 1956. It was originally planned to place there several of the departments of the City Hall. Evetually, after reconstruction, it was handed over to maritime economy institutions. The exterior walls have richly decorated facades. In the upper part of the facade from the east and west side, there are two ceramic Swedish lions holding the crown of the House of Vasa above the Szczecin coats of arms cartouche. On the western side, above the entrance to the building, there are four ceramic figures about 140 cm high which symbolize knowledge, agriculture, industry and maritime economy. Inside, on the staircase wall, there is a plasterboard with the coat of arms of the city of 1660, transferred from the Old City Hall.